2022 North America Wales Foundation Heritage Medallion
Preserve the history and providing a strong pillar of Welsh American life in Wisconsin.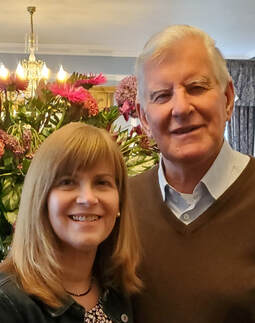 Very few individuals have extended their contributions to the cultural and social lives of their communities in Wales to Welsh American life as Edward Morus Jones has done. By now, he is a familiar presence and contributor at our gatherings, particularly at the North American Festival of Wales and in Philadelphia.

The North America Wales Foundation is particularly pleased that he has accepted an invitation to receive our Foundation's highest honor, its Heritage Medallion – Y Tlws Treftadaeth. In one of his many internet citations, he is described as a folk singer, school headmaster, campaigner, and political candidate. That only begins to describe this gentle, kind person whose personal warmth makes him no stranger to anyone he meets. He is a universally admired Welsh American.

Edward Morus Jones is a farmer's son born in Llanuwchlyn, near Bala in Meirionnydd. He discovered his passion as an educator early in life. His activities as a teacher spans many years at schools and institutes of higher education in several locations in both North and South Wales. Beyond his leadership in formal education Edward's passion and talents as a musician and sublime communicator has led to a career of entertaining, performing on-stage and in radio and television programs. He and his good friend Dafydd Iwan, look back affectionately at their contribution to children's music with the songs recorded for the "Cwm Rhyd y Rhosen" series. He has conducted many Cymanfaoedd Canu over the years.

Today, Edward stays busy in his church, as an ecumenical preacher in Welsh language chapels around Wales, and as the current chair of the annual Llandegfan Crown Eisteddfod. He extends his extensive social and cultural commitments to his community in Sir Fon where he has lived for many years. An example is a wonderful video of his leading the children at the local Henblas School, "Canu Gyda Mr. Edward Morus Jones," to be seen at https://www.flickr.com › photos ›. And yes, that's the same guy who leads the late night singing at NAFOW. He is a President of the Court of the Sir Fon Eisteddfod and was an honorary President of the National Eisteddfod held in Sir Fon in 2017. There is so much more to tell, we must at least mention his long-time leadership of the Urddand Cymru a'r Byd (Wales International).

Edward and his late wife Gwyneth, who also contributed much to Welsh cultural and educational life, received a unique recognition at the National Eisteddfod at Meifod in 2003. This is the only time that a husband and wife have been invested on the same day with the White Robe Order of the Gorsedd of Bards, its highest honor.

You may ask how did Edward, so busy in Welsh life, come to be a familiar and active part of Welsh life in North America. It began in 1984 with Edward and Gwyneth's participation in the first of many Welsh Heritage Week courses (the most recent in Scranton in 2021), as language tutors, hymn-singing leader- conductor, folk-music tutor and light-hearted poetry-literature adjudicator! As Edward in his modest way says "It helps strengthen the Welsh Heritage Week link with Wales where it visits every few years".

Edward (with Gwyneth until 2012) has participated in ten North American Festivals of Wales (NAFOW). He has contributed in many different ways. Among them he has conducted the informal hymn-singing, performed in the Noson Lawen, (NAWF director Steve Jones has happy memories of their duets), adjudicated at NAFOW Eisteddfodau, conducted Cymanfa rehearsals, participated in the 'Sunday Services' and given lectures. Recently he has co-operated with NAFOW to arrange a 'Song from Wales' competition for children at St David's Day time. 2023 will be its third year! Edward is now serving his second term as the Welsh North American Association Board of Trustees member from Wales. These are some examples of how he brings his talents and deep love of his culture to us in North America.

When we go to Wales the warmest greeting for Welsh Americans visiting the National Eisteddfod come from the booth of Cymru a'r Byd. Edward has been a leader of this organization for nearly half a century, serving it in many capacities over the years. His welcome has always made us feel at home away from home. Now that we have our own booth, namely Cymru Gogledd America, no need to ask who we wanted our booth to be sited next to. Edward is always among the first to come to say hello and help out with the logistics.

The transatlantic link in Edward's life has been greatly enhanced by his marriage to Mary Roberts Glassman in 2016. She has 1600's Quaker roots in Wales, only ten miles from where Edward grew up! Born of a long-standing family friendship and the loss of their respective spouses this has brought great happiness to them with joy and admiration to their large circle of friends on both sides of the Atlantic. Another good reason why Edward receives his award in Mary's home city.