2016 North America Wales Foundation Heritage Medallion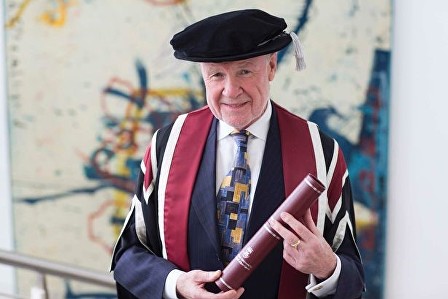 Grenville Thomas is the latest in a long line of Welsh-American explorers and innovators. He enjoys an international reputation as the pioneer of succesful prospecting and development of the diamond mining industry in Canada.
He is a son of the mining valleys, he went down in the mines when he was sixteen and soon was on the path to becoming a mining engineer, first through night school and subsequently Cardiff University, graduating in 1964.
His enterprising spirit and sense of adventure soon took him to Canada, to the Sudbury nickel camp in Ontario and then to the Giant gold mine in Yellowknife. There he engaged in his other passion as a self described "grass roots explorer and prospector. He followed his entrepreneurial spirit to explore for minerals in the far North West. This led to formation of Aber his flagship company named in homage to Abertawe – Swansea- his hometown. His vision and enterprise led to the discovery of the Diavik diamond mine in the early 1990's.
Gren, as he is fondly known, is passionate about Wales, speaking highly of the community of Morriston, where he born and reared, and its positive influences on his life. Despite his enormous success, he has never forgotten his roots in the Swansea Valley. He returns every year and is very involved in the area's social and environmental issues, exemplified by his opposition to the erection of a wind tower on the beautiful Mynydd y Gwair in the Gower peninsula, a place he remembers well from his childhood. In 2014 he was recognized by Swansea University by his election as an Honorary Doctoral Fellow.
His support of Welsh- Canadian activities is evident and he presented the story of his career in the seminar "From Coal to Diamonds"at NAFOW Calgary. In the past he has provided consistent material support for Welsh Canadian Festivals as a life member of the Welsh Society of Vancouver. His passion for rugby, Wales' national sport, has extended to Canada where he has continued to support the game. In Vancouver, rugby players go to a traditional pub, the Red Lion, after their games.It is a well known watering hole, built by Gren, which is a replica of the pub that his great -grandmother ran in Wales.
Stories of Grenville's exploration and successes in business are numerous. He has received many honors including Prospectors and Developers Association of Canada Prospector of the Year in 1999 and his Induction into the Canadian Mining Hall of Fame in 2009.
The National Welsh-American Foundation awarded Grenville the 2016 Heritage Medallion at a Grand Banquet during the North American Festival of Wales in Calgary on Friday 2 September 2016.