2015 North America Wales Foundation Heritage Medallion
A leader with great motivation, vision, tenacity and tenderness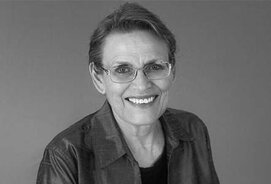 Dr. AdaMae Lewis is a most remarkable Welsh-American. We honor her for her leadership, vision and many tangible contributions to Welsh American life. She epitomizes George Washington's praise of how individuals of Welsh Heritage make great Americans. He, like us, would feel fortunate and proud to have the opportunity to thank and honor AdaMae in this respect.
AdaMae's Welsh roots go back to Llanidloes in North Wales from where her great grandparents, Lewis and Jane Davies Lewis, emigrated in 1866 to Wisconsin. Lewis, from Devil's Bridge, had been a lead miner at Dylife but since mother Jane insisted that she did not want her sons to work in the lead mines they left Wales. AdaMae's grandfather, Malachi, was born to Jane and Lewis in 1867 in Wisconsin. Later the family homesteaded in Dakota Territory, Moody County, SD. Malachi married Esther Shelton in 1905. AdaMae's father, Reece, who was the youngest of four sons, married her mother Ione and they raised AdaMae and her sister Shirley, now a resident in Sioux Falls South Dakota, on a small diversified family farm in eastern South Dakota.
She began her formal education in a one room country school through 5th grade. Subsequently she graduated from Rutland Consolidated High School as valedictorian. This led to an impressive academic career. AdaMae graduated and subsequently completed a Master of science degree majoring in Entomology, Microbiology and Zoology at South Dakota State University in Brookings. She then completed her Doctorate at Iowa State University at Ames based on research in Microbiology. This allowed her to embark on a distinguished professional career which continues to flourish to this day. She has assumed many leadership roles in the field of veterinary vaccines and biologics initially at the United States Department of Agriculture becoming a Chief, Center for Veterinary Biologics, Inspection and Compliance. Subsequently she formed a consulting business – Lewis Biologics Consulting Inc. later Consultants for Veterinary Biologics, which she co-owns.
She continues to interact with and advise people and companies needing to know the federal regulations for licensing, producing and distributing veterinary biologics such as vaccines, diagnostics and serums. Her expertise and leadership has taken her to many parts of the world, in many contexts to meet critical needs in underdeveloped communities. One of her most important and enduring contributions was to facilitate the Animal Biologics Training Program sponsored by the Institute for International Cooperation in Animal Biologics OIE (World Organization for Animal Health), USDA, Center for Veterinary Biologics and College of Veterinary Medicine, Iowa State University from 1996 to 2014. Over 2,000 US and international attendees have participated in the training program. She co-taught a post graduate course in Integrated Pest Management for the Smithsonian Institute Environmental Program through Peace Corps, at Universidad Nacional Autónomous de Nicaragua, the national university in Leon, Nicaragua.
AdaMae's contemporary family spans four generations. Besides her sister Shirley she has three children: Dévon Lewis, Amy Hintz, Pedro Antonio Loaisiga. Also she has three grandchildren: David Miller, Dolores Rosas Cruz, Peter Loaisiga and five great grandchildren: Nathalie, Tatiana, Danyel, Layla and Xavier. Her family ties extend back to Wales where she still maintains contact with cousins in Aberystwyth, Devil's Bridge (where the family farm is), Llanidloes and Cardiff.
When interacting with AdaMae one feels to be the center and sole focus of her attention. This is true for many facets of her life; to quote her "I am passionate about, in alphabetical order, continuing education, dogs, gardening and landscaping, family, friends and Welsh associated activities". These passions have led her to be the Iowa State Chair of the Gardening Study School sponsored by the Federated Garden Clubs of Iowa, following certification as a Gardening Consultant and a Landscape Design Consultant. She is also a Master Gardener.
We have to come to know her best in the context of her passion for her Welsh Heritage. This has resulted in her providing leadership in both her local communities as well as on the broad front of national Welsh-North American activities and organizations. To mention some of these she has been vice-president and presided over the Iowa Welsh Society, Cymdeithas Madog (also known as the Welsh Studies Institute in North America) and Welsh National Gymanfa Ganu Association (now the Welsh North American Association). She contributed greatly as Vice President, President elect, President and Past President of these organizations and is often sought out to provide leadership for the future. Her passions are of the best kind – distinguished by their influence and permanence. The values of Welsh American life are nowhere better evidenced than in the Great Plains Welsh Heritage Project led by the vision and hard work of Berwyn Jones and Martha Davies in Wymore, Nebraska. And yes, AdaMae is a current co-vice president and immediate past chair of The Welsh Heritage and Cultural Centre Charitable Foundation.
AdaMae's leadership of the WNGGA during a time of transition and emergence as a stronger and more vital organization is widely acclaimed. During her Presidency of WNGGA it was a pleasure to interact with her on matters and events of common interest to us in the NWAF – always a calm, wise and decisive leader and friend. So it is with a sense of joy and privilege that we honor this great Welsh-American of so many talents and great wisdom.