2010 North America Wales Foundation Heritage Medallion
Conservators of Welsh History in America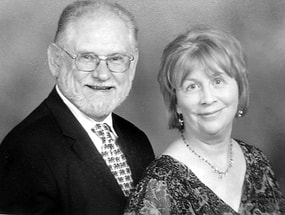 Both Berwyn Jones and Martha Davies had been active in Welsh-American activities long before they met and married 9 years ago. In fact, they met at a Welsh National Gymanfa Ganu Board of Director's meeting in Waterloo, Ontario. Berwyn assisted in the creation of the St. David's Welsh Society of Georgia and aided in reviving the Colorado Welsh Society.

Martha, who lived in Aberystwyth for 4 years, acquired exceptional linguistic skills while mastering the Welsh language and has spent many years translating materials and books originally written in Welsh. In addition, she has taught Welsh classes in Minnesota, Iowa and New Zealand. Martha was one of the co-founders of the Welsh Society of Western New England. Both Berwyn and Martha have been correspondents for Y Drych and NINNAU for many years. It was during this period that their collective interests and friendships built an international network of colleagues and associates who would eventually help them to accomplish even greater achievements in the future.
Together, Berwyn and Martha have become quite a team and have achieved a long list of accomplishments. They are active members of numerous Welsh societies in the United States. They both serve on the Board of Trustees of the Welsh National Gymanfa Ganu Association and are members of the National Welsh-American Foundation. In addition, they are listed as Friends of the National Library of Wales and members of Undeb Cymru a'r Byd (Wales International). Through these important Welsh contacts and organizations, Berwyn and Martha have helped to lead the effort to create the Great Plains Welsh Heritage Project and Cultural Centre, one of North America's most celebrated Welsh heritage sites.
The Great Plains Welsh Heritage Project and Cultural Centre, which is located in Wymore, Nebraska, has evolved into a unique and inviting learning center under their leadership. They have provided visitors with artifacts, creative expressions of art and multi-modal displays that immerse learners in the Welsh-American experience. Their dedication has built local, national and international partnerships that have enhanced all of the educational opportunities at the site.
Because of the efforts of Berwyn Jones and Martha Davies, Welsh-Americans and those interested in studying the Welsh who came to North America have many new and exciting resources available to aid them in their research. They are truly worthy of this prestigious honor and both deserve our deepest gratitude for their dedication to telling the many stories of our Welsh mothers and fathers.