2008 North America Wales Foundation Heritage Medallion
Leaders of Welsh American Culture and Literature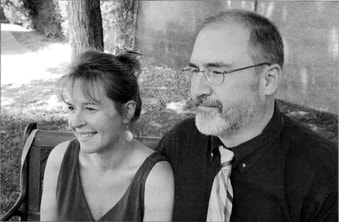 John and Karen Ellis first met shortly after high school in Michigan in 1983. Karen's family was of Germanic and Ukrainian heritage and came from Detroit. John was born in Florida and moved to Michigan when he was a boy. John's first exposure to his Welsh background was through Dorothy Phillips, his maternal grandmother who hailed from Aberystwyth. She was too elderly to make the trip back to Wales when a relative remembered her in a will, so John's mother Donna and his aunts made the trip on her behalf. Although the bequest itself was modest, they returned with a rich legacy of renewed family ties and knowledge of their Welsh heritage. Through snapshots, books and tapes brought home by his mother, John began his earliest study of Wales and Welsh culture.
John and Karen married in 1988. Karen worked as an administrative assistant in the film industry while John worked odd jobs and studied social science and education at Eastern Michigan University. While an undergraduate student, John participated in a "study abroad" program which allowed him to visit Wales for the first time and to meet his extended family in Aberystwyth. The experience enflamed his passion for Wales and Welsh culture and upon his return, he and his wife began to participate in Welsh American and Celtic cultural activities. With Karen's encouragement, John produced a series of drawings designed to teach children about Wales which was subsequently published by the NWAF as a coloring book. During that time, John enrolled in Cwrs Cymraeg and attended a seminar on Welsh American history in Waukesha, Wisconsin. There he met Anne Knowles, then a graduate student in geography, and Dr. Bill Jones of Cardiff University, scholars who inspired and encouraged him to pursue his interest in Welsh history through graduate study.
After John's graduation from Eastern Michigan University in 1990, he and Karen moved to Boston where they would live for the next twelve years. John studied history as a graduate student at Boston College while Karen worked as an office manager for real estate and public relations firms downtown. They became Red Sox fans and often participated in Welsh and Welsh American circles in and around the Boston area. As a graduate student, John participated in the foundation of the North American Association for the Study of Welsh Culture and History (NAASWCH), an organization in which he would play a leading role in subsequent years as trustee, secretary-treasurer and vice-president. Scholarships awarded by the NWAF and the WNGGA helped John secure a prestigious Fulbright Scholarship for a year's study in Wales. With Karen's support back in the states, John returned to the family's hometown where he worked with Dr. Paul O'Leary at the University of Wales, Aberystwyth.
During that time, John would often visit his Welsh relations. His Uncle Merfyn and Aunt Eunice Phillips gave him a warm Welsh welcome and a home away from home in the ancestral house where his grandmother had been born. His cousin, Gwynant Phillips, worked at the National Library of Wales and provided assistance and companionship while working long hours in the archives. In 1995, John was awarded a Master of Arts degree in Welsh History by the University of Wales, Aberystwyth. He then returned to Boston College where he completed his Doctorate of Philosophy in British and Irish history in 1997. John was working as a postdoctoral fellow at Boston College when Karen gave birth to their first child, Rhys William Ellis in 1998.
In 1999, John accepted a position as an assistant professor at Green Mountain College in the small town of Poultney, Vermont. The college was quick to recognize Karen's skills and employed her as the administrative assistant to the dean. Located in the New York-Vermont Slate Valley, Green Mountain College was at the center of a traditional Welsh American community and John was soon asked to develop and lead the college's Welsh Heritage Program. In this capacity, John worked with local Welsh residents, organizations, historical societies, and churches and served as a trustee of the Slate Valley Museum. Seeing the opportunity to attract young people to Welsh culture, he was determined that the college's program address the interests and activities of the students. He provided support to the college choir in building a repertoire of Welsh songs, raised money for the purchase of a herd of Welsh Black Mountain Sheep for the student-run farm, and, with the support of a WNGGA grant, established a program to teach students about Welsh culture through the sport of rugby. In 2000, he founded and organized the college's first Welsh Harvest Festival, an event bringing students together with local Welsh Americans and featuring a visiting Welsh choir, rugby matches, guest speakers, a show of Welsh animal breeds, and a Welsh folk concert held around a giant bonfire featuring a rustic feast of roast pig and cawl. John also served as a trustee for the WNGGA during that time. Karen was intimately involved in all of these projects and in the midst of all this activity gave birth to their second child, Jaclyn Bronwyn Ellis in 2001. Before leaving the college, John published a short history of the Welsh Presbyterian Church of Poultney, Vermont in honor of the community which had received his family so generously.
John and Karen returned home to southern Michigan when John accepted a position as an Assistant Professor at the University of Michigan, Flint in 2002. John's career as a historian and scholar was well established through the publication of several articles in noted journals such as the Welsh History Review, Eire-Ireland and the North American Journal of British Studies. The research support now provided by the University of Michigan allowed him to build on this work and to further develop his scholarship. His essay, "A Pacific People-A Martial Race: Militarism, Pacifism and Welsh National Identity" was recently published in the collection Wales and War and excerpted and translated for publication in the Welsh language periodical, Barn. His book, Investiture: Royal Ceremony and National Identity in Wales will be released by the University of Wales Press later this year. In 2008, John was awarded tenure, promoted to Associate Professor and selected as chair of the Department of History. He was recently invited by the National Endowment for the Humanities to participate in an intensive summer seminar held in India and was named a Resident Research Fellow at the Eisenberg Institute for History at the University of Michigan, Ann Arbor.
Shortly after returning to Michigan, John was encouraged by Dr. Ellis Jones to apply for the position of Executive Director of the WNGGA as his successor. It was a daunting proposition but knowing the administrative and organizational skills of his wife, John agreed to apply for the position as long as Karen served as his office manager for the WNGGA headquarters. In 2003, the WNGGA Board of Trustees named John as Executive Director and the headquarters was transferred from its location in Minnesota to Michigan, where it was staffed by Karen and her mother, Jacqueline Brauninger. It was very much as partners that John and Karen took up the task. While working for the WNGGA over the last five years, they have had many wonderful experiences and have made many good friends. They are proud to have worked with the board, volunteers and festival chairpersons in organizing and implementing the North American Festival of Wales in Buffalo, Orlando, Cincinnati, Washington DC and Chicago and look forward to the continuing success of the NAFOW under their successors.