2007 North America Wales Foundation Heritage Medallion
Historian, Musician, Linguist & Community Leader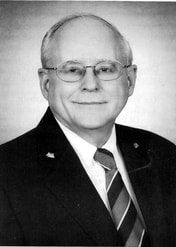 Bob Roser is known to his myriad friends in Welsh American life as a historian, linguist, musician and community leader. His many contributions in these areas have brought him to the forefront of Welsh American life in his community, North America and Wales. He is being recognized for his activities with the National Welsh-American Foundation's (NWAF) highest honor, the Heritage Medallion, at this joint banquet with the Welsh National Gymanfa Ganu Association (WNGGA) at the Festival of Wales.
Bob traces his Welsh ancestry to Trefeglwys in Powys whence his mother's Quaker forebears, the Benbow's, immigrated to North Carolina in pre-Civil War times. During the Civil War some of their descendants were involuntarily serving in the Confederate Army and one great, great uncle deserted from that army not far from Fredericksburg, Virginia. It was through contact with a descendant of this man that Bob was able to establish his Welsh ancestry.
Bob's interest in things Welsh began with a letter from his maternal uncle Howard Moore. Bob had written to him about wanting to study a Celtic language and Uncle Howard said, "Didn't you know that your mother's family originally came from Wales?" Bob took the challenge and began studying Welsh on his own. He then took classes at Cwrs Cymraeg and, after having been placed in the advanced class, he won the "chair" at the Cwrs in Towson, Maryland. He now teaches beginning Welsh classes for the Welsh Society of Fredericksburg.
Bob Roser was born in St. Petersburg, Florida, in 1946 while his father waited for retirement from the Army due to wounds suffered in World WarII. He subsequently grew up on Long Island, New York, and later attended Duke University in Durham, North Carolina, graduating in 1968 with a degree in German. He received a commission in the US Air Force, undertaking active duty in the Philippines. He then transferred to Moody Air Force Base in Valdosta, Georgia, where he met Cindy, his wife of now 36 years. She is also well known to Welsh Americans for her contributions as a story teller and a Director of NWAF. The Air Force then ordered Bob to attend Intelligence Officer School in Denver, Colorado. He served in a number of fields including in wing level intelligence, on the Moscow Hot Line as a translator, and in a field unit working with defectors in Germany. He completed his career in the Air Force Reserves as a Lieutenant Colonel. Subsequently Bob has worked in the field of imagery intelligence for over 20 years and he presently is a senior principle systems engineer with BAE Systems, Inc.
Languages came early and easily to Bob. In high school he studied German, Russian and French. At Duke University, he studied German and Russian and followed with graduate work in Russian language and literature. After mastering Welsh, Bob began writing for both Ninnau and YDrych, especially with articles on the Welsh in the American Civil War and on Welsh politics. Bob now serves as both Historian and Book Editor for Ninnau, keeping readers abreast with both contemporary Welsh literature and historical events of note. With the help of Cheryl Mitchell, he was able to get Welsh language material dating from the Civil War period that was kept by the Steuben County Historical Society. He has had articles on this topic published in YDrych, Ninnau, and Cambria. An article containing a translation of a long letter from Chaplain Erasmus Jones from Steuben County, who was then serving with the 21st US Colored Troops, was published in Americas' Civil War magazine. Bob has given lectures on the Welsh in the Civil War at the National Festival of Wales in Buffalo, New York, and to the St. David's Society of Central Ohio and the Welsh Society of Colorado.
He assisted in the production and appeared in the Welsh television program "Star Spangled Dragon" that documented the history of Welsh emigration to the United States. Bob and Cindy have also visited Wales on a number of occasions, most recently to attend the National Eisteddfod in Y Faenol in 2005, after having made friends throughout Wales.
Bob's musical interests and activities are varied and longstanding. He has played the bagpipes with various bands. He was asked several years ago by Bill Reese to join the Welsh folk band Moch Pryderi. He appears on two of the band's three CDs. He has written articles on Moch Pryderi and Welsh American music for Ninnau, Cambria, and Yr Enfrs. Bill and Bob are preparing a book and CD containing 100 Welsh and Breton tunes for the bagpipes.
Bob has served on the Board of Trustees of the WNGGA. He is presently the President of the Welsh Society of Fredericksburg, Virginia, and was also editor of their newsletter for years. He has also been the Video Librarian and Tape Sales Coordinator for Cymdeithas Madog. Bob Roser continues to contribute actively to many facets of Welsh American life and the NWAF takes great pleasure in recognizing his past accomplishments and anticipating many good things from him in the future.