2006 North America Wales Foundation Heritage Medallion
Philanthropists & Cultural Patrons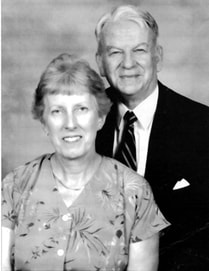 Evan and Elizabeth Davis live on a farm southeast of Oak Hill, Ohio, in an area which abounds in history and traditions stemming from the immigration of Welsh people beginning in 1818. Mrs. Davis is a native of Aberaeron, Ceredigion, a small town nestled on Cardigan Bay, Wales, and they have three children. Mr. Davis is a graduate of Oak Hill High School and the College of Wooster in Wooster, Ohio. After his graduation he joined his father, E. E. Davis, in the family refractory and banking businesses. Evan Davis himself was elected President of Davis Refractories Corporation from 1974 until 1986. He was elected President of Oak Hill Banks in 1974 and later as Chairman of its holding company, Oak Hill Financial Corporation. In 2004 he was elected Director Emeritus. His ancestors came from near the village of Cilcennin, Ceredigion, in 1841 at which time family members corresponded by letter. They do so now by e-mail.
Evan and Elizabeth's prominence and recognition in their community comes from a remarkable, sustained history of active involvement and major philanthropic activity, much of it directed toward the preservation and promotion of Welsh traditions. This leadership has had beneficial effects far beyond the boundaries of the Welsh Scenic Byway of southeastern Ohio. Evan has been active in the Gymanfa Ganu Association of Southeast Ohio for the last half century, providing financial backing for the organization and has personally brought in Welsh ministers and singers. He and Elizabeth have hosted many visitors in their home and provided transportation and sustenance. Evan's support helped place the Gymanfa on a sound footing. After serving as a trustee, he accepted the position of Moderator in 1975, a position he held until 1995. He was re-elected as Moderator in 1999. Evan and Elizabeth also helped establish the Welsh American Heritage Museum on East Main Street in Oak Hill, Ohio. He has served on the Museum Committees and as a trustee since its inception. Elizabeth has volunteered her time and resources to teach the Welsh language to all those who have shown interest.
The association of Evan and Elizabeth Davis with the University of Rio Grande is a long and distinguished one. Evan was appointed to the university Board of Trustees in 1993. His leadership and philanthropy led to his proclamation as a Fellow of the Institution in October 2004. He and Elizabeth have been a major driving force in the development of the Madog Center for Welsh Studies (Canolfan Madog ar gyfer Astudiaethau Cymreig). The center is housed in the Elizabeth F. Davis House, named in her honor in October 2002. The Madog Center at the University of Rio Grande was established by the university Board of Trustees in 1996. The Center is an outgrowth of the North American Association for the Study of Welsh Culture and History (NAASWCH) which held its first conference at Rio Grande in 1995.
Located in the midst of one of the largest Welsh-American settlements in North America, the Madog Center for Welsh Studies has established a hub that supports the scholarly study set forth in its mission, unique in the United States and Canada, to champion the scholarly study of Welsh and Welsh-American culture, history, arts, and humanities in North America. The center also sustains opportunities within the University of Rio Grande and its surrounding community for increased understanding and appreciation of Welsh heritage. In addition to this the Center creates opportunities for younger generations to enjoy their heritage and to experience the resurgence that Wales and Welshness is undergoing today. Evan and Elizabeth have played an active role in the forming of the Welsh Studies program at the University of Rio Grande. They also support and participate in many gatherings at the university. They have underwritten scholarships for several years to allow Welsh students to attend the University of Rio Grande. This community has become a highly regarded Center for Welsh Studies, initially under the leadership of Kara Lewis who came to Rio Grande from Wales as a recipient of one of the scholarships sponsored by Evan and Elizabeth. On her return to Wales, she was succeeded by Dr. Timothy Jilg in 2005.
Evan Davis has been quoted as often saying, "Do more, do it better and do it with less." Few have practiced this motto better than he and Elizabeth. They do so with utmost grace and humility. It is a great privilege for the NWAF to confer upon them its highest honor, The Heritage Medallion, at its joint banquet with the WNGGA in their home state among an international gathering of Welsh people. Their leadership and example is an inspiration to all as we celebrate and practice our Welsh way of life.