2000 North America Wales Foundation Heritage Medallion
Organizer, First Treasurer, NWAF; Culture & Business in Wales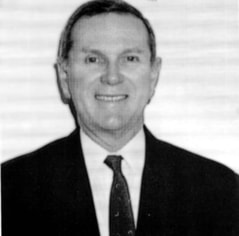 Hywel Davies and his wife Mari (nee Phillips) both grew up in Wales but for the past 34 years have made their home in Bethesda, Maryland. Their two children were born in the USA and both are graduates of McGill University, Montreal, Canada. Hywel retired from the World Bank two years ago and is now an independent consultant.
Hywel was born in 1938 in Loughor (Casllwchwr), the westernmost village in West Glamorgan, South Wales. Hywel grew up speaking Welsh fluently and became a member of Penuel Welsh Baptist Chapel, Loughor. After receiving his primary and elementary education at the local school, he attended Gowerton Grammar School for Boys from where he proceeded to Glasgow University, Scotland. He graduated with a degree in electrical engineering in 1961.
He joined the Steel Company of Wales, Port Talbot, as a computer programmer in their Computer Department. This exposure to computers and computer-related activities became the central theme of his subsequent career. Hywel worked for Elliott Automation in the UK and Israel before coming to the USA in 1966. He and Mari were married in Swansea a year earlier. After a series of consulting contracts with the World Bank, Hywel accepted an offer of a technology advisory position in 1971. There followed a 26 year career at the World Bank.
His involvement with and support for entities and causes in Wales is a long one including: business and economic development, and the establishment of business education within the University of Wales; Nant Gwrtheyrn and the preservation of the Welsh language; Cor Meibion Pontarddulais; Welsh rugby in general and the Llanelli club (the Scarlets) in particular; The Honourable Society of Cymmrodorion; and Undeb y Cymry ar Wasgar, to name a few.
Hywel became involved in Welsh-related activities within a year of arriving in the country. He was elected president of the St. David's Society of Washington D.C. and has been an officer or board member ever since: he is currently Treasurer and Historian of the 114 year old Society. He is a member of the Welsh National Gymanfa Ganu Association and the National Welsh-American Foundation. He has on occasion conducted cymanfaoedd canu and has been a speaker at various Welsh functions.
In 1979, under the umbrella of the St. David's Society, three major initiatives were launched, the goals of which were: to charter a Welsh School of Business in Cardiff, Wales; to create a vehicle which would enable individuals and other entities to channel funds in support of Welsh cultural activities; and to establish a High School Choral Eisteddfodd to be held annually in Washington D.C. Under the leadership of the late John (Jack) K. Evans and with his financial support, P. Howard Patrick, Hywel and a few others vigorously pursued these objectives. One of the results was the formation and incorporation of the National Welsh-American Foundation in 1980 with the first officers being: Jack Evans, President; P. Howard Patrick, Secretary: and Hywel M. Davies, Treasurer.
In addition to the above "Welsh" affairs, Hywel is an active member of Fourth Presbyterian Church, Bethesda. He is also an avid exerciser - jogging, riding his bicycle, and playing squash. He intends to add kayaking to the list, now that he and Mari spend a considerable amount of time at their newly built holiday home in Bethany Beach, Delaware.