2018 North America Wales Foundation Heritage Medallion
Leaders, Patrons and Conservators of our Welsh Heritage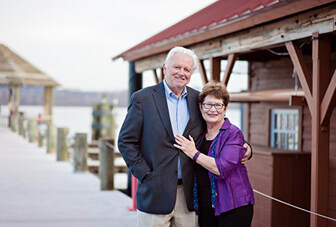 It gives the North America Wales Foundation (NAWF) great pleasure that David Jones and Donna Lloyd-Jones have accepted the Foundation's highest honor, its Welsh Heritage Medallion. The Foundation exists to promote education and cultural links between Wales and North America. For over 30 years the NAWF has provided scholarships and bursaries; and created awareness of historical and on-going trans-Atlantic links. Since 1987 we have honored individuals who, by personal example, have furthered Welsh-American relations and activities. David's and Donna's accomplishments and contributions add new dimensions to our Welsh American activities. The award of the Medallion during this Grand Banquet signifies a tradition, now in its fourteenth year, of the coming together of the Welsh North American Association (WNAA) and NAWF in a spirit of joyful cooperation and celebration.
While the individual contributions of Donna and David to Welsh American life make them both deserving it was felt that conferring the award on both of them simultaneously would enhance their pleasure in its receipt. This was reflected in the thoughts of those consulted in making the easy decision of who to offer the Medallion to this year. The universal response was "How can we possibly give the award to the one without the other – they both so richly deserve it!"
Donna and David have had distinguished professional careers based primarily in Washington DC. However, first and foremost this recognition concerns their deep commitments and activities directed at preserving our heritage by promoting and securing opportunities for future generations to discover and become involved in Welsh American activities.
Donna and David have rich Welsh ancestry and heritage. Donna's grandparents emigrated from North Wales and her mother Catherine Jane was born in Ashley, Pennsylvania and raised in Granville, New York until she was 15 years old. At that time her mother passed away and consequently Jane moved to Wilkes-Barre, Pennsylvania to live with her sisters and complete her High School education. She married Donald G. Lloyd of Luzerne, Pennsylvania in 1945 and they lived with their three children Donna, Bruce and Scott, in Catonsville, Maryland. No one would be prouder of Donna than her mother to whom Donna wishes to dedicate her award. Catherine was long active in Welsh American affairs. She was a long-time member of the Baltimore Women's Welsh Club of America and the St David's Society of Baltimore as well the Welsh National Gymanfa Ganu Association (WNGGA). She also served as National President of the WWCA during which time she supported the Welsh Home in Rocky River, Ohio overseeing the development of a new wing to the Home during her tenure. At the time of her passing Donna and her brothers established the Catherine J. and Donald G. Lloyd Scholarship Endowment to facilitate the travel of undergraduates to Wales for study. Awarded to deserving recipients the Scholarship has been a spectacular success. Witness an email from Jeanne Jindra, Director, Madog Center for Welsh Studies, University of Rio Grande, to Donna and David: Your 2017 Lloyd Family Travel Scholarship awardee, Keri Lawrence, filled me in on her wonderful experiences in Wales. She has given me the link to her website and beautiful sketches. Your award, in your mother's memory, helped an academically and creatively gifted young lady to experience a world beyond our rural southern Ohio. As she travels on her life's journey, she will have these experiences with her always.
As Donna and her brothers grew up, she became imbued with her mother's commitment to Welsh American life. A stellar academic career took her to California. After obtaining a Baccalaureate in Speech at the University of Maryland, she received a Master's in Communication at the University of Pennsylvania's Annenberg School. In California she completed a Doctorate in Communication Theory and Research. While completing her post graduate studies at Stanford, she became heavily involved in organizing and leading the activities of Cymdeithas Madog, organizing three week-long courses in California. As she did so she passed the O level exams in Welsh (equivalent of a Welsh high school examination). She was a member of the Welsh-American Society of Northern California from 1973 to 1994. In 1980 the call came from Washington DC and Wales to become a Founding Director of the National Welsh American Foundation (with, among others, Hywel Davies). She served in the Foundation in many capacities for over 30 years and, among other actions, entrusted the administration of the Catherine J. and Donald G. Lloyd Scholarship to the Foundation. On her return to Washington DC she has been an active member of the local St David's Society serving as Secretary and board member at various times.
And now to David, with a background and accomplishments similar and complementary in many ways to Donna's. David's father was born in 1906 in Llangorse, near the Brecon Beacons. David's grandfather was killed in a horse and cart accident precisely a week before the birth of David's father. David's grandmother died when his father was 11 who, at age 12, went to work in the mine. David's father immigrated to Cleveland in 1928. David was born and educated in the Cleveland area. He gained a bachelor's degree from Kent State University and his juris doctor degree from The Ohio State University College Law School. Accepted to the Bar, initially in Ohio, and subsequently in Virginia and Washington DC David has practiced law in the Washington DC area for many years.
He has long-established family and administrative ties with the WWCA and the Welsh Home in Rocky River. He joined the WWCA Board as one of the first male members in 1992. Subsequently, he served as President of the Board from 2010 to 2012 and again from 2016 to the present time. The contributions of this venerable institution to Welsh-American life since its establishment a century ago, particularly in recent years, with David's influence, vision and guidance are enormous. David has also shared his expertise and knowledge of Welsh-American life both at the local and national levels. Over many years as a member of the Washington DC St David's Society he served as president and also as treasurer for 20 years and more. At the national level he served five years as treasurer of the WNGGA in the early 2000's.
David and Donna were united in marriage in 2015 giving them further opportunities to enjoy their extended family. David has two sons, Malcolm and Llewellyn, who has two sons, Fychan, who is four, and Edgar, just turned one – remember his namesake great, great uncle! Donna has two daughters, both of whom live in California. Lucia Arianwen and George Lake have a 16 year old son Shai Welsh while Sarah Angharad and Grant Reynolds have a 2 a two year-old named Matty and at the time of writing are awaiting the arrival of a new child. We can count on Donna and David to ensure that their children and grandchildren will be aware of and value their Welsh Heritage.