2011 North America Wales Foundation Heritage Medallion
Promoters of Welsh music and culture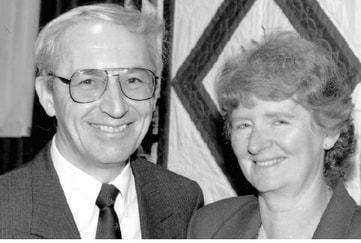 This year's honorees, Alan and Gretta Upshall, were both born and raised in the Rhondda Valley of Wales. While Alan's father earned a living as a grocer, Gretta's father was a miner. Both Alan and Gretta excelled at school. In addition to their successes in academics, each pursued interests in related activities. Alan's lifelong interest in sports began in his early days as he played rugby and other sports at school. Gretta began her pursuit of music by participating in both school choir and the Glamorgan Youth Choir.

Following their high school careers, Gretta moved to Barry Training College in South Wales where she earned her teaching certification. Alan attended Aberystwyth University earning a degree in Agricultural Botany. He continued his pursuit of athletic competition by playing on both the university's rugby team and the Ystrad Rhondda Team during breaks. After earning their undergraduate degrees, they moved to Birmingham, England, where Gretta taught elementary school and Alan earned his Ph.D. in Genetics. In addition, Alan found time to play rugby for Birmingham Welsh and became a founding member of the Canoldir (Birmingham Welsh) Male Voice Choir. In 1968, they moved to Lancaster where Alan served as a lecturer in Biological Science and Gretta continued her career in teaching.
It was at this time that their family responsibilities expanded with the birth of their two children, Kathryn and Huw. Seeking greater opportunities to grow and explore the world they moved to the United States in 1984 when Alan became a senior scientist at the biotechnology company Zymogenetics in Seattle, Washington. As they became familiar with their new home in America they immersed themselves in the activities of the Welsh American community in the Pacific North West. They explored the influence of the Welsh people in the locality compiling and organizing an oral history of the Welsh in the Puget Sound Region. They presented a program on their published history of the Welsh to the Washington State Ethnic Heritage Conference.
Alan and Gretta have spent over a quarter of a century organizing and leading Welsh activities in the Puget Sound area with Alan serving as President of The Puget Sound Welsh Association. Music has always been a priority in their lives and they became members of the Seattle Welsh Choir. This led to the organization of the Pacific North West Gymanfa Ganu Association with Alan serving as President. He also served as President of the North American Welsh Choir. They have organized visits by Welsh choirs and Welsh artists as well as networking with Welsh organizations across North America and the United Kingdom.
They soon became involved with activities at the national level. Alan chaired the Planning Committee with Gretta as Secretary for the highly successful National Gymanfa Ganu in Bellevue Washington in 1994. Among other things Alan introduced the Eisteddfod to the Gymanfa. After Alan's election to the Board of Trustees of the WNGGA in 1994 he became President in 2000 and was a prominent leader for subsequent successful Gymanfas, under the banner of the North American Festival of Wales, in San Jose in 2001 and Richmond, British Columbia in 2003.
In 2009, Alan retired after a tremendously successful career as a scientist and international consultant to the biotechnology industry. Alan has authored over 35 scientific publications and served as a contributor to many international scientific conferences. Gretta has remained busy supporting her family and enjoying her musical interests. Both Alan and Gretta continue to support and create Welsh activities in their home state and throughout North America. The North American Welsh community is truly indebted to both of them, and, in our gathering together, we should extend our deepest gratitude to them for their tireless devotion to our culture and our common heritage.