2009 North America Wales Foundation Heritage Medallion
Conservators of Welsh History in America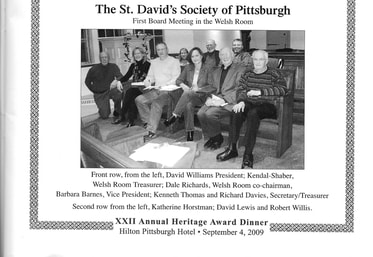 The St. David's Society of Pittsburgh is one of the oldest Welsh Societies in North America tracing its existence back to the 1880s. Gatherings in the early twentieth century drew thousands of people. The present day Society does not have so many members but its activities influence Welsh life across the continent as evidenced by its hosting of the North American Festival of Wales in the city this year.
It is therefore appropriate that we should take this opportunity to honor them with the National Welsh-American Foundation Heritage Medallion for their vision and leadership in creating the Welsh Nationality Room. This is located in the Cathedral of Learning on the campus of the University of Pittsburgh. It was formally dedicated on June 1, 2008, the culmination of many years of effort.
The idea of a Welsh Nationality Room had been discussed by the St. David's Society for many years and in 2001, the Society's Board of Directors approved the project. A kick-off dinner was held at a local restaurant and initial pledges showed that there was strong support for the project.
A concept committee was formed with one essential requirement that the design had to precede 1787, the founding date of the University of Pittsburgh. After considerable deliberation it was decided that a chapel best represented the unique character of Wales in the eighteenth century. An architect was chosen - The Design Alliance - and associates of the firm visited Wales to study early Welsh chapels firsthand. The resultant design is patterned after the Pen-Rhiw Chapel, which currently stands at St. Fagans National History Museum in Cardiff.
The Poerio Construction Company initiated construction in November 2007 which was completed in early April, 2008. Thus, concept to completion was accomplished in seven years. This was achieved by the leadership and effort of the local Welsh community in publicizing the project and fundraising to gain the support of local Welsh Societies, several prominent individuals to be followed by further contributions from hundreds of individuals.
The Dedication Ceremony was held in the beautiful Heinz Chapel which is located on the campus of the University of Pittsburgh. A procession from the Cathedral of Learning to the Chapel for the ceremony took place in front of an overflow crowd that included visitors from Wales. A ceremonial key is traditionally presented to the University at the service. The Welsh Nationality Room's ceremonial key took the form of an enlarged lovespoon, which was carved by a craftsman in Wales. It is an altogether fitting symbol, putting the finishing touch on a lasting memorial to Welsh contributions in Pennsylvania and across our nation! Welsh Americans will always be grateful to the St David's Society of Pittsburgh for their vision and effort as conservers of Welsh History in such appropriate surroundings.