2005 North America Wales Foundation Heritage Medallion
Publisher & Exec. Editor, Ninnau & Y Drych; leader of Welsh American Life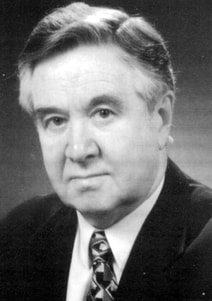 Arturo Lewis Roberts M.D was born in Patagonia. His parents were of Welsh descent and the knowledge and love of the Welsh way of life in the tight knit community of the Wladfa has led to his life long commitment to the preservation of these values and traditions.
He received his early education in the city of Trelew, named after his great grandfather Lewis Jones who was the local leader of the colony in its early years. Arturo studied medicine in Buenos Aires after which he immigrated to the United States more than forty years ago to pursue his professional career. He assumed senior executive positions with a number of pharmaceutical companies, initially with Parke Davis in Detroit. Subsequently he moved to New Jersey to Warner Lambert in Morris Plains and then became Medical Director and Vice-President of Ayerst International in New York City.
His professional life has always balanced by a strong commitment and involvement in Welsh and Argentinean activities. In Detroit he became associated with the Welsh and Argentine communities and became President of the Detroit Argentine Association. This was the time that NINNAU, our now indispensable Welsh North American newspaper, saw the light of day as a newsletter under Arturo's leadership. .He is universally known and respected as the Publisher and Executive Editor of NINNAU into which he recently incorporated Y DRYCH. Published monthly NINNAU is read by Welsh people worldwide. It is the center of written communication for Welsh North Americans.
Arturo Roberts, together with a number of like minded Welsh Americans, founded the National Welsh American Foundation. As is described elsewhere in this journal the Foundation has celebrated its 25th anniversary this year. As well as being a Founding Director Dr Roberts has served as president of the Foundation and most recently has been appointed the Chairman of the Foundation's Advisory Council.
Dr Roberts participates in many aspects of Welsh American life. He founded and presided over the Welsh-American Genealogical Society and is President of the Welsh North American Chamber of Commerce. Wales is close to Arturo's heart and has brought him and his family back to their ancestral home. They have acquired the residence in Bala of Michael D. Jones who founded the Welsh colony in Patagonia in 1865. This historical building is being preserved as a museum to perpetuate the memory of the life and work of this pioneer. Arturo is always present at the National Eisteddfod and has been honored by his induction into the Gorsedd of the Bards under the bardic name of Arthur Iwerydd. He has subsequently been elevated to a holder of the white robe. He is Vice-President of Undeb y Cymry ar Wasgar (Cymru a'r Byd); and he led the Overseas Welsh annual congregation for the National Eisteddfod held in Bala in 1997. He conceived the World Wide Welsh Award - Anrhydedd Cymry'r Cyfanfyd, which is bestowed annually on persons who have contributed exceptionally to the Welsh nation. He has also been appointed a Vice President of the Honourable Society of the Cymrodorion of London and received an Honorary Fellowship from the University of Bangor in North Wales.
Arturo has been widely recognized in North America. He is an honorary member of several Welsh American societies. In 2004 he received the Robert Morris Award of the Welsh Society of Philadelphia. His acceptance speech was published in NINNAU deserves the close attention of all who are interested in the promotion of Welsh life in North America He is recipient of the David W. Price Award of the Welsh Society of Central New Jersey and was honored by the Wilkes-Barre National Gymanfa Ganu Committee in 1983. He was honored by Green Mountain College of Poultney, VT, with the George Jones Award for Preservation of Welsh Heritage.
At the center of Arturo's life is his family. His bride, Olga Williams, also originally from Patagonia, is Arturo's collaborator and supporter in so many of his endeavors. Together they have raised three children Mair, Arthur and Rhys in a home enriched by a rich multi ethnic culture maintaining three languages, of which as Arturo always reminds us English is the third in his vocabulary!
This great man — American, Argentinean and Welshman - is aptly described by the words he used to characterize his ancestor Michael D Jones "Gwerinwr, Gwladgarwr, Gweledydd" Populist, Patriot and Visionary.