2004 North America Wales Foundation Heritage Medallion
Educator & Organizer of Welsh Culture in North America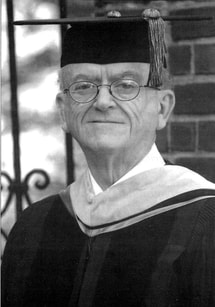 Ellis J. Jones, Ed.D is a native of the Welsh community of Cambria, Minnesota, and son of the late Ellis P. Jones and Edith M. Roberts Jones, both of whom were of pure Welsh descent. He was educated at Gustavus Adolphus College, St. Peter, Minnesota, where he earned his B.A. degree and later (1958) would join the faculty. He earned his M.A. from the University of Minnesota, Minneapolis, and Ed.D from the University of North Dakota.
Dr. Jones served in the U.S. Army (1952-1954) as secretary to the Commanding General of the 3rd. Armored Division in Fort Knox, Kentucky. After his discharge from military service, and prior to his appointment to the faculty of Gustavus Adolphus College - an institution with a rich Swedish and Lutheran heritage - he taught business subjects at Plainview High School (1955-1958). During his tenure at Gustavus Adolphus, where he taught economics and management, he wrote numerous professional articles on the teaching of business subjects. He co-authored a popular text/workbook titled Proofreading/Editing Precision, now in its fourth edition.
On two occasions during his tenure, he was asked to serve (for seven years each time) as associate dean of the college, with specific responsibility forlogistical support for the Office of the Dean. He also served 14 one-year terms as secretary to the College's Faculty Senate. In addition to his regular teaching responsibilities, Jones organized on an extra time basis, an interdenominational conference/seminar program for chuch secretaries, presenting more than fifty one-day seminars coast to coast. He also coordinated ten national conferences for church secretaries at the college over a 20-year period.
He served as executive director from 1966 through 1987 for Delta Pi Epsilon, a national honorary professional graduate society in business education. He helped the organization establish and staff its first national office to handle the logistics of supporting membership, publications and conference scheduling. During that time the membership grew from forty chapters with 3,500 members, to over ninety chapters with more than 9,000 members.
Dr. Jones has received numerous professional awards over the years, including the 1983 Distinguished Service Award from Minnesota Business Educators, Inc.; 1987 Exemplary Service Award, Alpha Chapter, Delta Pi Epsilon, New York University; and the 1987 Distinguished Service Award, Delta Pi Epsilon. Upon his retirement in 1998, as Professor Emeritus of the college, Dr. Jones was appointed executive director of the Welsh National Gymanfa Ganu Association (WNGGA) and moved its international headquarters from Ohio to the Gustavus campus.
Dr. Jones' organizing of Welsh cultural events can be traced back to the early 70's, when at the invitation of the Gustavus chaplain he was asked to organize a 'St. David's Day in Chapel' service. This featured the singing of four Welsh hymns - a mini-cymanfa - during the regular chapel service. This has grown to become the largest St. David's Day mini-Gymanfa Ganu in North America with the student choir leading the singing. Jones and his wife, Janet attended their first 'National' in Brangwyn Hall, Swansea in 1974. This cymanfa was recored by a BBC film crew and later broadcast as one of a series of popular, Sunday evening, hymn-singing programs. In the following year both became WNGGA life members.
During his five years as WNGGA executive director, Dr. Jones worked out procedures to have a regular part-time staff for the headquarters operations which handled logistical support for members, trustees, officers and committees of the WNGGA. He established a basic double-entry accounting system for processing all income and expenses through the headquarters staff. He organized procedures for centralized registration of all persons wishing to attend the National Gymanfa/North American Festival of Wales. He prepared the initial proposal to merge the Welsh Associated Youth organization (WAY) into the WNGGA. He has focused particular attention on the importance of forging stronger bonds with Welsh organizations throughtout the United States and Canada.
Dr. Jones and Janet sing in their church choir. He is an active member of the Mankato Riverblenders Barbershop Chorus, a comedy quartet called MAGIC, and the Kiwanis Club of St. Peter, Minnesota. They have two children Karen and David and three grandchildren.