1999 North America Wales Foundation Heritage Medallion
President, National Museum & Galleries of Wales; former Chief Executive, Countryside Council for Wales; former Chief Executive, Wales Tourist Board.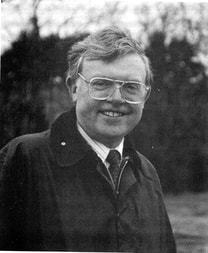 Paul E. Loveluck is the Chief Executive of The Countryside Council for Wales, an organization of over 350 permanent staff and one of the largest employers of natural scientists in Wales. It is currently undertaking major work programmes to coordinate Wales' contribution to the Rio de Janeiro 'Earth Summit' Biodiversity Plan and to manage important terrestrial and marine sites in Wales. He is responsible to the Council for Nature conservation: Protecting and enhancing the landscape: Improving access to, and the enjoyment of, the countryside: Improving people's understanding of the countryside.
Paul was born in Maesteg, Glamorgan on February 3, 1942, attended Maesteg Grammar School and graduated with an Honors Degree in Economics from University College, Cardiff in 1963. A history prize winner, a member of the Student Union Council, he played rugby for the University team. He joined the Board of Trade in London in September 1963 where he worked on inter-national Commercial issues., including service in Geneva with the United Nations Conference on Trade and Development. On returning to Cardiff, he worked with Welsh Office Ministers developing Government policy on health care, transport, the environment and economic development.
Paul joined the Wales Tourist Board in Cardiff in 1984 as its Chief Executive. In this important, and highly visible appointment, he was charged with developing and promoting the tourism industry, one of Wales' major industries. He helped to secure changes in the law to allow the Wales Tourist Board to promote Wales overseas and subsequently undertook promotional work in the USA, Canada, Japan and many European destinations. Paul was a frequent visitor to the United States and Canada and a popular personality at Cymanfoedd Ganu (Singing festivals). He was awarded the order of Commander of the British Empire (CBE) in the Birthday Honours List 1993 for services to the Tourism industry in Wales. He was a Vice President of the National Welsh-American Foundation from 1985-1995.
He is President of the Maesteg and District Male Voice Choir, President of the Drama Association of Wales and Chairman of the Welsh Chamber Orchestra. For recreation he enjoys hill walking, swimming, reading, music and gardening. He is presently Chairman of the 'New Deal' Advisory Committee for Wales.
Paul is married to Lynne, nee Gronow and they have two children: a son, aged 29; PhD Archaeologist and a daughter, aged 26; Lecturer (Music), North Shropshire College.