1993 North America Wales Foundation Heritage Medallion
Myra Thomas Lawrence, Woman Pioneer; Member, Gorsedd of Bards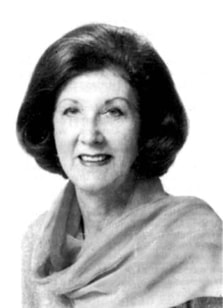 Myra Thomas Lawrence was born in Manchester and raised in Garn Dolbenmaen near Caernarfon. Immediately following grammar school, Myra went to London to work. With the declaration of war in September 1939, she was evacuated from London to Liverpool. There not being much difference between being bombed in Liverpool or London, she returned to London and was there during the 1940 Blitz. With the requirement to participate in war related work, Myra returned to Wales and joined the Civil Service in Llandudno. Tragedy entered her life when her brother, a 20-year-old pilot in the RAF, was killed.
A marriage after the war led her to Los Angeles where she began her participation in Welsh-American activities in the Los Angeles Welsh Church and local Cambrian Society. This involvement has continued for over 45 years.
Her business career started in Los Angeles with the Automobile Club of Southern California followed by positions with the Bank of America, the American Savings Bank, and the Goodyear Tire and Rubber Company. She moved to Honolulu where she embarked on what became her main career as a pioneer in market research and design of computer forms. This career led to positions with Hong Kong Business Forms and, upon her return to the United States, with Moore Business Forms, Ltd., an international firm, as the first woman doing field work in designing forms and systems for companies. Coincidentally, Moore Business Forms bought out Hong Kong Business Forms, the company Myra helped establish.
In 1976, Myra married Robert H. Lawrence and their business and People to People interests have permitted Myra to continue her involvement with overseas Welsh organizations. In 1987, she was selected to represent the overseas Welsh at the National Eisteddfod in Porthmadog, a most appropriate selection. In 1988, she founded the Welsh Heritage Club of California in Santa Barbara. In addition to her service as a Director and President -elect with the NWAF, she has served as a Trustee of the Welsh National Gymanfa Gand Association and continues on the Advisory Council of the NWAF.
In 1990, Myra was elevated to the Eisteddfod Bardic Circle as an Honorary Ovate (Green Robe) during the National Eisteddfod in Rhymni. She thus became one of the only two known women in the United States so honored. As a spokesman for Welsh-Americans, she was profiled, with three other Welsh women in the United States, in the TV series "Breuddwyd Pedair" shown on S4C in Wales.
The record of Myra Thomas Lawrence and her contributions to the Welsh community in the United States and throughout the world clearly identify her as worthy of becoming the first woman recipient of the National Welsh-American Heritage Medal.